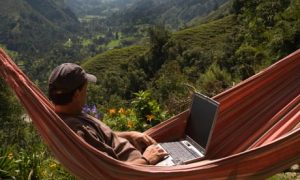 At a glance, this is a freelance, work from anywhere, M-F position that won't take more than four hours to complete. Compensation is $1,000 per month.
The job involves uncovering trending news stories on topics related to the U.S. commercial casino industry, states currently considering online gaming legislation, cryptocurrencies, sports and headlines affecting the United States economy. After discovering the most interesting and relevant topics being discussed on social media, you will rewrite a total of six stories in your own words. Each story will consist of a headline, a one-sentence summary and 225-250 words of high-quality content with a journalistic style, non-opinionated tone.
The ideal candidate will have a background in journalism, an impeccable knowledge of the English language norms and rules, and an understanding of trending news. Compensation will be deposited in a local bank account, in the name of the writer, on the 1st and 16th of the month.  In exchange, the writer must provide an invoice that meets all Costarican legal requirements.
Workflow for content creation.
Step 1: Uncover the day's most trending stories about poker (West coast market), bitcoin, US economy, and sports.
Step 2: Before 7am, submit headlines via Skype chat for editorial approval
Step 3: Once approved, re-write each story in your own words using Grammerly.com.
Editorial guidelines:
Narration in the third person.
Voice: Straightforward phrases with a casual, all-American voice (avoid corporate blah); the use of popular phrases and sayings coined in the United States of America is encouraged.
Tone: The degree of formality will be 'dialed' up and down depending on the subject matter, but the general tone is smart, yet light-hearted.
Style: Clear, concise, short sentences. Break up large blocks of text with headings and major bullet points.
Articles should be formatted using the following schema:
Topic category: 5-9 word headline
Summary: between 150 and 160 characters
Tags: 1-4 words related to the main topics of the article
Body: unique, 225-250 words
Source(s): cite sources of the original article with hyperlinks
Topic insight:
Poker News: US-centered poker industry news with a focus on regulated markets, online poker legislation in the USA, major tournament event recaps, land-based casino news, celebrity poker players, poker pro news and editorials about poker culture. Avoid covering news about a particular poker site, unless it's news that negatively affects its brand, i.e. drop in stock price, CEO gossip, failed software feature, fine, indictments, cheats, etc.
Cryptocurrency: focus on Bitcoin and ethereum.
Sports: The most trending news from the four major professional sports leagues in the USA: MLB, NBA, NFL and NHL.
Money: Financial, economic and money news with a focus on the casino industry.
Prior experience using BuzzSumo, Grammerly, Hemingway App and Google Trends are a plus.
– Work from anywhere, but reside in Costa Rica.
– In no case copy-paste any material from online news sources. All work will be checked for plagiarism.
– Monday – Friday.
– Meet a 12 pm submission deadline.
To apply, please email: bob@marketingdyno.com